This post may contain affiliate links. We may receive a comission from purchases made through these links
The Appen Contributor Portal (formerly Figure Eight), is a pay-per-task platform that utilizes a global crowd to complete microtasks in exchange for rewards.
Appen achieved a technical integration milestone in 2019 when it acquired the machine learning company Figure Eight, and all former users were granted immediate access to Appen crowd resources. This alliance evolved into the new data enrichment platform Appen Contributor Portal, or ACP, which we will be reviewing.
What are ACP Microtasks?
Typically, these are relatively simple and quick tasks that collectively make a big difference in intelligence-based systems. This is often referred to as Human-in-the-loop (HITL), which leverages human and artificial intelligence to produce machine learning models.
The demand for this ever-evolving outsourced market translates into a welcome source of extra income for many. Generally, the nature of Appen Contributor Portal assignments is to collect, moderate, and/or annotate data sets such as search results, images, speech, text, audio/video and more.
As a FlexJob and a remote work opportunity, you will have a choice in the type of work you want to do, from the comfort of your home. All you need is a computer, internet, and an Appen account.
Since you are looking for information on Appen projects, you may also like to register on these other websites that offer work from home opportunities.

The more sites you sign up for, the more money you will be able to earn.
Getting Started
New contributors can sign up here. You will complete the form and verify your account. You can then link your PayPal account (this step may be completed later) which is how you will be paid once you start earning money.
The first task you should see is titled Welcome to Appen, which will collect personal information, preferences, and also asks you about your specific skills and allows you to elaborate on your professional experience and qualifications.
It will look like this: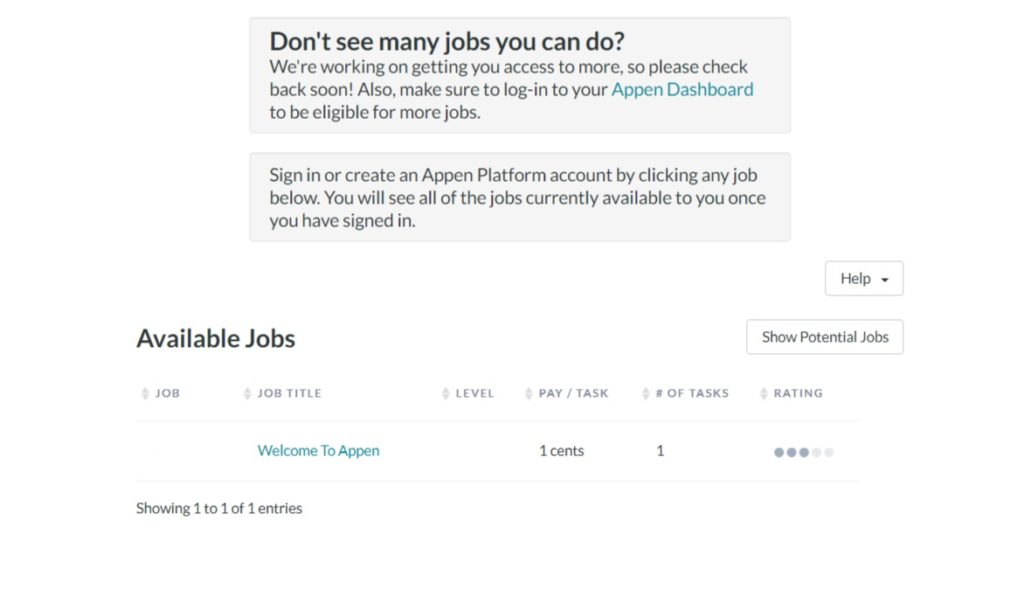 Note: Sign up is a two-step process. Clicking on a job (such as the "Welcome to Appen" link as described above) will prompt you to sign in to your main Appen account, and if you are entirely new to Appen you will need to create one. This will link your ACP account to your Tasks page, which is where you will be completing the work accessed from the Jobs Page.
You will access your Dashboard during Step 2 of login as well. This is the base of operations for your micro-tasking activities. Here you can control settings, preferences, and view job history and level related statistics. ACP news and new features, if released, can also be found here.
When you are registered and ready to begin, initial login to the Appen Contributor Portal will display the available Jobs page, which is similar to this:

Your available jobs will show the following features:
What are Levels?
Performance Levels on Appen Contributor Portal are characterized as 1-3 (three being the highest) and these release the type of tasks you can work on. You are assessed for accuracy, quality and quantity.
| | | | | | | |
| --- | --- | --- | --- | --- | --- | --- |
| Level | Accuracy | Jobs | Test Questions | Max Minor Flags | Max Major Flags | Max Admin Flags |
| 1 | 70% | 5 | 100 | 4 | 2 | 0 |
| 2 | 80% | 10 | 100 | 1 | 1 | 0 |
| 3 | 85% | 10 | 100 | 0 | 0 | 0 |
Requirements to level up on Appen Contributor Portal
Completing test questions helps you 'level up' and gain access to a wider pool of jobs, while a dip in your accuracy score can result in a temporary demotion. Therefore, do your best to keep your stats and quality high!
Test questions have known answers and are 'hidden' within jobs by the TaskAuthor as a control mechanism to ensure high-quality results.
When you accept a job you are usually in 'Quiz Mode' for the first set of questions. Here you demonstrate competency for the type of job you are attempting. Doing well in Quiz Mode is essential to high accuracy and getting to the next level.
Flags are demerits placed on contributor accounts when it is determined that work or behavior does not meet acceptable standards.
Task authors target different levels to fit the need of the job. Getting to Level 3 is your goal as a new contributor. This level has the smallest set of contributors competing for jobs and reflects the highest pay scale.
Reaching Level 1
The majority of jobs are available only to those who have reached Level 1 or above, so unlocking this milestone is critical.
You should always monitor the job listing page, but until you reach the first level, do not be surprised to find this lacking in opportunities. If new jobs are continuously popping up often, it may be helpful to use a page refresh extension to alert you of current activity.
Appen Contributor Portal Salary Information
You will see many of the microtasks on ACP posted at a pay rate of less than $0.10 per job. The trick is to become fluid in speed and accuracy, develop a rhythm, and these pennies will quickly add up to dollars.
With practice and level advancement, one could reasonably begin to earn up to $10/hour, depending on the quantities available.
What type of Tasks / Jobs does the Appen Contributor Portal Have?
Check out these links (provided by ACP) for some sample training jobs: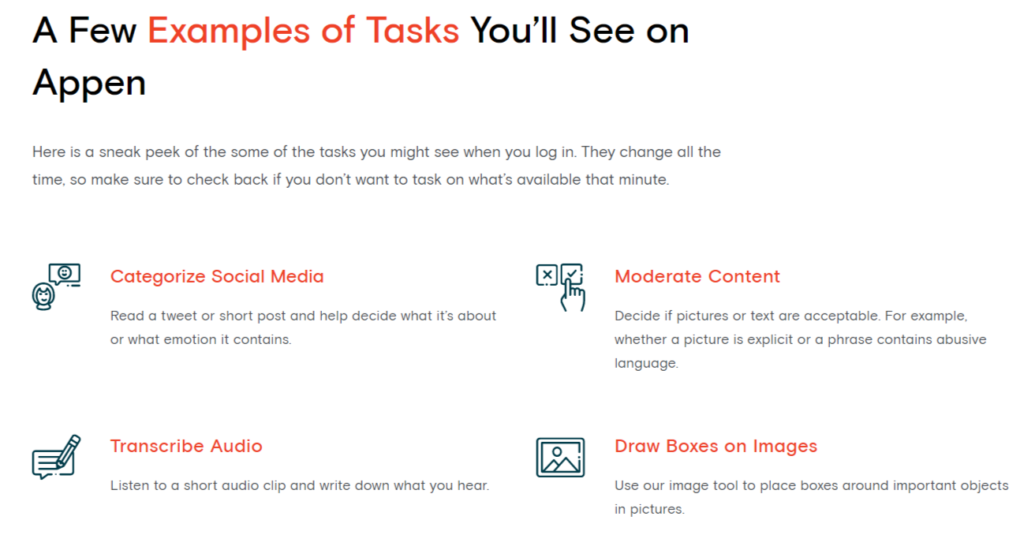 The Youtube videos below will also give you an idea of what these tasks may look like:
Appen Channel Partners
Appen partners with other sites (i.e. Rewards Sites, Get-Paid-To) which allow contributors to access Appen tasks from other platforms. These are the current Channel Partners listed by Appen:
When you sign up for an account with one of these sites, you will be able to access Appen tasks from the Partners website, if they are available. These are tracked in the Appen Contributor Portal in the same way as all other jobs.
You can, in a sense, earn rewards from Appen and the Partner Channel program independently, at the same time.
Is the Appen Contributor Portal Worth It?
The answer to this is subject to high fluctuation. There may be periods of scarce job postings, particularly at lower levels.
Factors such as location, worker competition, and economy all come in to play. For example, since the pandemic, level 0 tasks (needed to reach Level 1) have been very rare, and those at higher levels are finding fewer jobs than usual.
Patience is required, as well as being very assertive in checking for task listings.
This platform, if nothing else, could serve as a credible training tool to become familiar with micro-tasking and crowdsourced work, as there are many such opportunities available online. Another perk is that it's also possible to 'double up' on rewards if you access work from an Appen Channel Partner site.
In short, it is a good idea to register with ACP and monitor job availability in order to take advantage of times where there is high task flow. This is, for many contributors, a relatively easy and convenient supplement to income.